Do You Really Know How To Wear Cardigans In A Stylish Way ?
Cardigan fashion is going beyond on what you think it is.
Published on 28 October 2017
The simplicity of a lightweight cardigan make it one of the best ways to layer outfits. --- Twiggy
Living in the tropical country, we tend to face some problems such as difficulty in choosing the suitable outfit of the day as the weather is unpredictable.
Sometimes in the morning before you went out, the bright sunshine through your windows and you decided to wear a singlet or cropped tee due to the hot weather. Unfortunately, heavy downpour came in the afternoon and you were stucked in a cold cafe or any place, which you started to regret about your outfit.
Having trouble of this all the time? Here is your savior >>>> CARDIGANS !
Cardigans come with variety of designs and also different thickness from the range of lightweight to knitwear. Wearing a lightweight cardigan not only could protect you from the cold in your office or any air-conditioned places, it also can protect you from sunburn as well without making you feel scorched.
1. WAIST-LENGTH CARDIGAN
Let's just start with the most common and classic style of cardigans which is the waist-length cardigans. I'm pretty sure that most people owned this type of cardigans. But do you really know how to style it? Do you know the ' Don't ' of it ?
First of all, you shouldn't match this kind of cardigan with a long top. Why? This is because the contrast in lengths is not flattering and will creates a weird shape and proportion on your body. You should wear them with a fit and flare style dresses, or high waisted skirts. Please keep these in your mind while matching your outfit.
2. BOYFRIEND CARDIGAN
Boyfriend cardigan is simply just a loose cardigan with a longer length that it looks like you're borrowing from your boyfriend. And this type of cardigan is quite popular among women not only it looks stylish but also comfortable. Opposite from the waist-length cardigan, you should avoid this from dress and skirt and try to match with plain tee and skinny / boyfriend jeans.
3. AZTEC CARDIGAN
If you get bored of simple plain color cardigan, you might want to try this out. The pattern designed on the cardigan will add points to your outfit, grabbing attention from the others. But there is a rule that you must follow, if not you will just spoil your outfit.
Don't match your oversized Aztec cardigan with loose tops and bottom like boyfriend jeans because it will make you look wide. Try to be simple by pairing a plain tee with a skinny jeans and it is already perfect, as the main point of your outfit is your Aztec cardigan, not your tops.
4. KIMONO CARDIGAN
"Kimono" is a traditional Japanese garment that has been historically known as a thin full-length robe influenced by the East Asian culture. However, Western countries have already adapt this fashion as an idea on cardigan and it have become very trendy nowadays.
I would say that this fashion is a kind of contemporalisation of traditional as it convey the ideas of Japanese culture and identity through contemporary fashion where it become famous in worldwide yet retain its own identity where people still get to feel the "Japanese" of it although wore by other ethnic.
It is suitable to wear in tropical country as the fabric is thin enough where you won't feel hot when you wear it yet protect you from the UV light.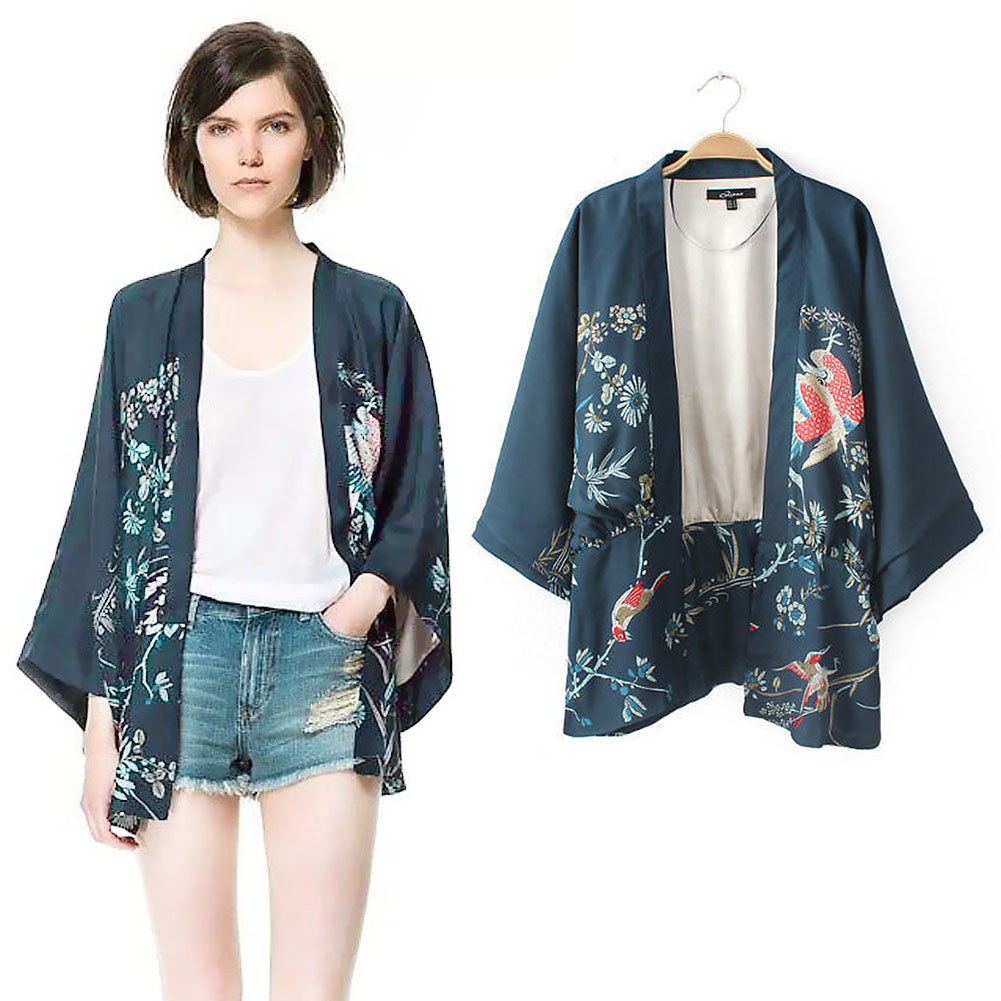 5. KNITWEAR CARDIGAN
You will wear knitwear probably only when you travel to countries with four seasons (fall season) due to the thickness of it.
How would you style with it?
It's very simple. Just go with a singlet paired with a long pants and a scarf around your neck. You still will look fashionable without the need of putting on a bulky outwear.
Cardigan fashion is far beyond that what you think it is right? You might already feel fond of it after getting to know more about all these cardigan styles!