Tips on how to pull off Army Green like an ABSOLUTE STAR!
Get started with these 8 army green style today!
Published on 25 October 2017
Everyone is familiar with denim fashion, those classic blue ripped jeans and denim jacket. Apart of the blue element of denim, the acceptance of the army green denims have been picking up. Despite having a relative different look, the colors are closely related (yellow & blue makes green). Nevertheless, it can be quite a difficult color to work with, hence we will show you someways on how to dress with those army green colors today!
Technically, the army green shades is also known as olive green. This unique gives of that military vibe for both gender. The neutral characteristic of the color enables matching with any patterns, giving you a sexy chic look & badass look. This style have received popularity in both Asian and Western Cultures. Here are some celebrities that have managed to pull of the army green look in style.
Gigi Hadid ( @gigihadid )
Tiffany Hwang ( @xolovestephi )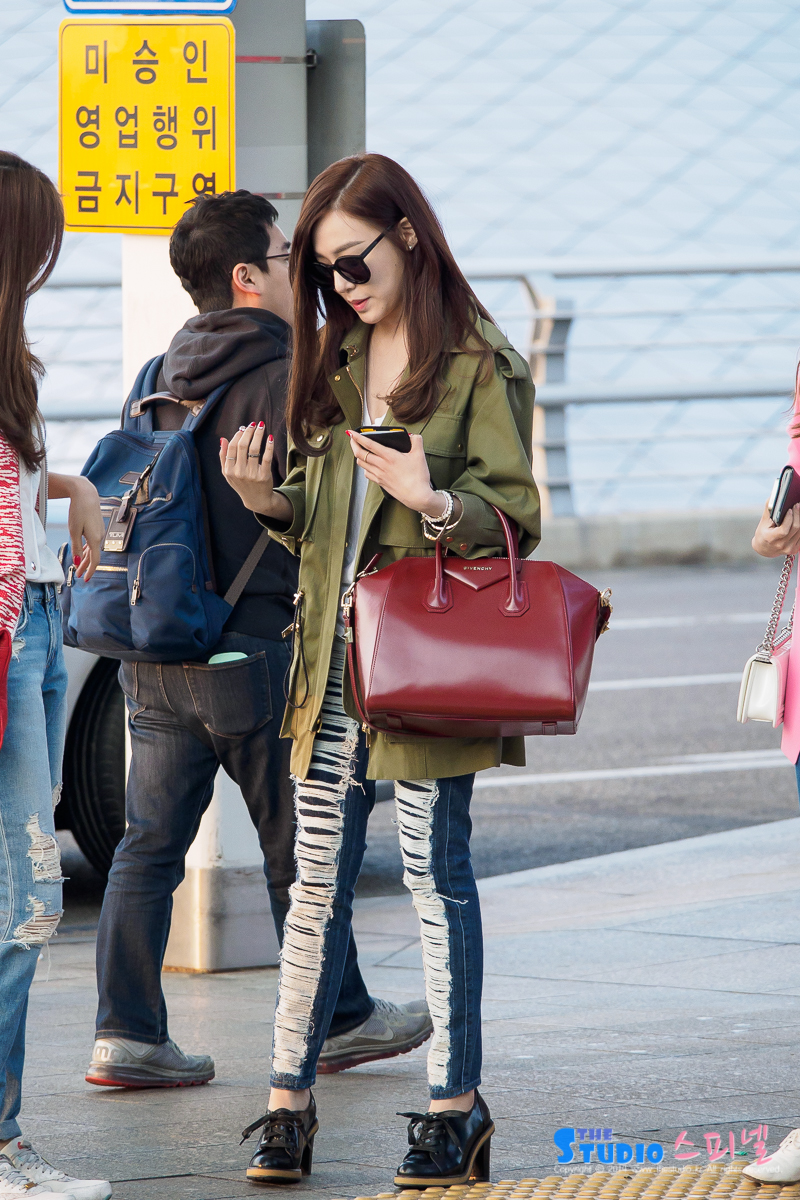 Im Yoon-ah ( @yoona_lim )
If you are tired of the black and white combination, yet you still want to look swag and rugged? Then, it is time for you to try army green fashion!
Here is a good countdown tips for a the army green style!
8. Skirt

A cute midi skirt or formal full skirt as far as consider, it definitely could accentuate your feminism Not to forget, midi skirt is always a suitable choice for pear body-shaped chic as it creates an illusion of you being slightly taller and revealing your slender curve lines. Pleated full skirt is also a trendy choice as it gives a refine and elegant look.
Midi Skirts

Long Skirts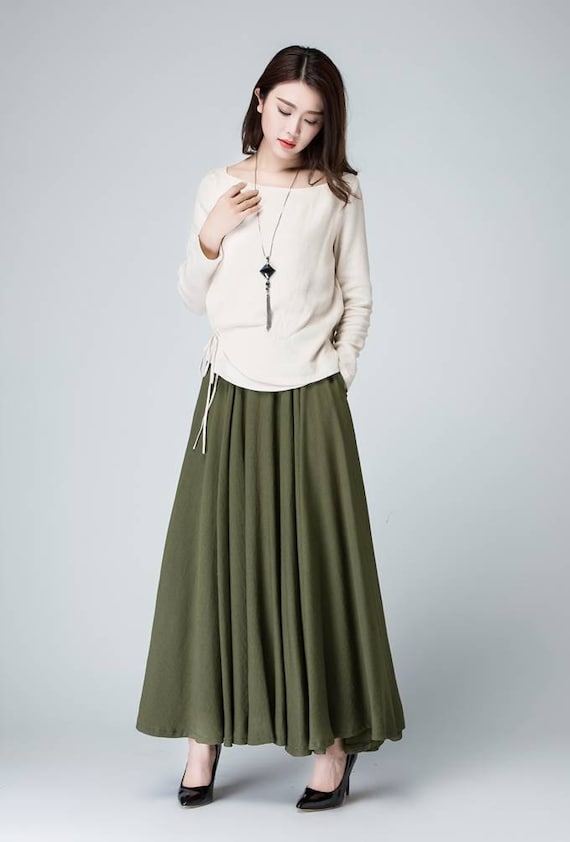 7. Shirt
Army green as your primary outfit for your casual day is a good choice. As it is not a very popular color, you surely won't see anyone around wearing this color often. You will standout in your surrounding because people around you will normally go for monochrome colors. Still, army green will still represent itself as a soothing and simple color as a casual tee. Simply pair it with a skinny jeans or ripped jeans and you are ready for the battlefield!
6. Cardigan
For those girls whom prefer those sweet dressing, the army green cardigan will definitely do the trick. You will look decent will it mixes well with and dress, tees or singlet as long it has lighter colors. This combination is suitable for both casual dates or working days.
5. Dress
You will be actually surprise how good an army green dress would look, and it is the best fashion item to show your feminism without losing your edginess. Wavy material could always highlight your curve , especially the one with deep V neck or the slit-rendered dress. If you want to have the young chic look, try halter dress instead!
4. Blouse
Army green blouse could definitely shows that maturity in you. The material of the blouse could define how soft the edge is. Tuck an army green silk blouse into your bottoms would definitely flaunt the sexiness and elegance in you. Work or casual, army green blouse is perfect for any occasion. Or, having it half tucked to create a cool and naughty look! Only do this probably after your working hours!
Tucked-In
Half Tucked
3. Bottoms
Counting down as number 3 is our army green bottoms.The color fits any bodytype and style, no matter it is skinny pants, baggy pants or even tailored pants. It is versatile enough to pair with any shirts or blouses, and even footwear. Edge it out with a pair of boots, or dress it down with sneakers or flats. Army green bottoms do not necessary be asciocated to military patterned pants but it could also be feminine design.
White with Army Green Bottoms
Black with Army Green Bottoms
2. Jacket & Coat
How could you miss out the army green military jacket? No matter it is bomber jacket, cardigan or sweater, army green jacket is always the most versatile fashion item in your closet. It is extremely cool to have a army jacket as a collection in your wardrobe. Army green jacket create a confident look into your overall look. See how the youngsters rock it with army green jacket? Fashionable badges are sewed on the low profile army green jacket would definitely show your funkiness, making your outfit looks more interesting and not just dull.
Simple Jacket
Patched Jacket
1. Trench Coat
Being number 1 is our heavy weight champion, army green trench coat that could max out your coolness. Wear it over your casual outfit to transform yourself into a girl soldier with maximum confident. You could either pair the army green jacket with sneakers for swag styling or high heels for formal occasion, showing your edgy chic look. If you are a big fan of K-Pop, you should know G-Dragon for his fashionable and his appearance often related with his rugged army green coat. College students who want to be a hipster could check it out as this is the most popular fashion item among youngsters!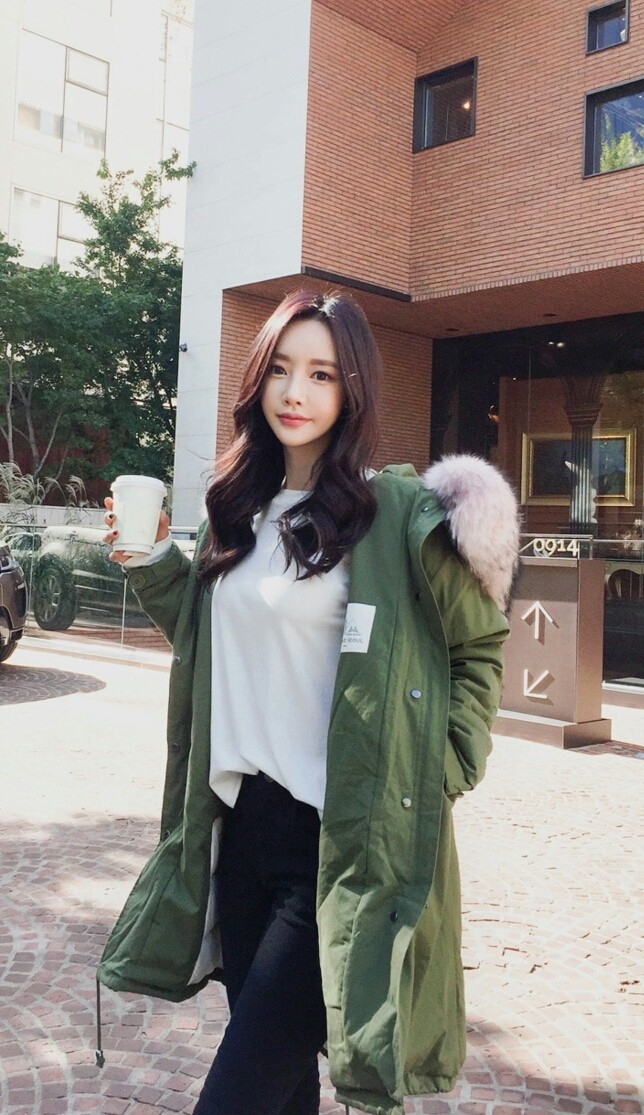 Finally, wear army green like you would wear black!
You can easily make army green the low-key central color which mixes with grey, white, or even bright colors. That is why army green is the new black which you shouldn't miss. There is many more interesting army green stuff that I could have covered but they are quite rare to come by. For example, army green jumpsuit and army green cropped sweater. If you manage to find any other army green items just buy it now, becuase we are pretty sure it would not be around very much longer.