Iconic party outfits guide - FILA Apparel & Shoes
Trendy outlook that fits well with the current streetwear fashion trends
Published on 07 December 2017
#1 FILA X MONKEY TIME
The unique and trendy Japanese brand, MONKEY TIME which is renowned among the general population because of its unisex design, is making its comeback and will be collaborating with one of the classic and globally established sports brands, FILA for its autumn-winter collection.
The design idea will be a reminiscence of the 90s sports industry, with the unique combination of black, white and grey medium loose fit outfit, creating a stylish and trendy outlook that fits well with the current streetwear fashion trends.
Sweatshirt & Hooded Sweater
The materials used are a mixture of heavy cotton and wide sleeve with a loose cutting. Besides that, it also succeeded in overcoming gender preferences and create a retro sports suit that can appeal to both gender. Although it generally looks low profile in appearance, located at the back is a giant LOGO etched on the cloth. As the trend of retro sports outfits ascend upwards, this would be the best combination of collaborative work.
Wide sleeved sweatshirt: retail price - NT$ 5850 (grey/black) ~ RM 780
Thick hooded sweater: retail price - NT$ 6240 (white/black)
~ RM 832
Coach Windbreaker Jacket
The combination of red, black and white in the creation of the FILA brand for this look makes for a very attractive appearance that brings a spirit of dynamism and trendiness.
Coach windbreaker jacket; retail price NT$8,600 ~ RM 1150
Coach track bottoms; retail price NT$5,500 ~ RM 730
#2 Trendy Retro Sports Shoes FILA DISRUPTOR 2
To make the shoes stand out from the rest in this saturated industry, the shoes are designed with a zig-zag bottom soles that increases the height of the wearer as an additional function. Besides that, a large FILA logo can also be spotted on the sides of the shoes. The benefits of using both lightweight EVA and rubber as its outsole means that the shoes are light in weight, and is soft to step on so that it can absorb the weight of its wearer. All this combination to create a unique and low profile design just shows the intricate and thoughtful design process that goes into this pair of shoes. Hence, this shoe is definitely all that you will ever need for your autumn-winter season.
Classic retro model; retail price NT$ 2,980 ~ RM 400
Flamingo red/pink model; retail price NT$ 2,980 ~ RM 400
#3 Harrington Jacket
The Harrington Jacket is ideal when you match it with a t-shirts, polo shirts or even formal wear. It will complement each other perfectly as well. In addition, your favorite denim outfit can also be worn along with this to create a unique young and trendy outlook. Therefore, you must not miss out on having this eye-catching jacket for your autumn-winter season.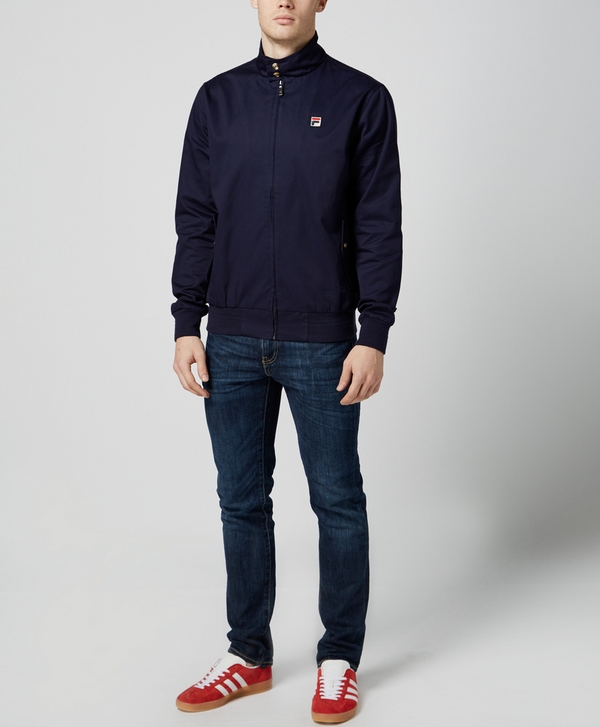 Source: FILA